Last week I posted Part 1 of my interviews with a few of my favorite designers asking them important questions about how to choose fabrics when sewing childrens' clothing. I asked them questions including, What fabrics go together? Which colors look nice alongside each other? How many prints or colors is too many? What size print should you choose? Do you stay safely with one designer's line of fabric or do you mix them up? And ... where do you even start? Their answers were helpful, inspiring, and most interestingly, very different from each other.
Renae of Fluffy Girl Boutique is a long time friend and inspiration to me. Her fabric choices are always fun without being 'too much'. How does she do it?
Fluffy Girl Boutique
When I see a pattern I just get an idea what fabric will work with it. Do I want bold colors or soft pastels? It depends on the pattern. If it's a nice sweet party dress then I would pick a light colored fabric with small patterns. Ruffled skirts would need less bold prints because you wouldn't see the entire print. A fun maxi dress would be great with big bold print.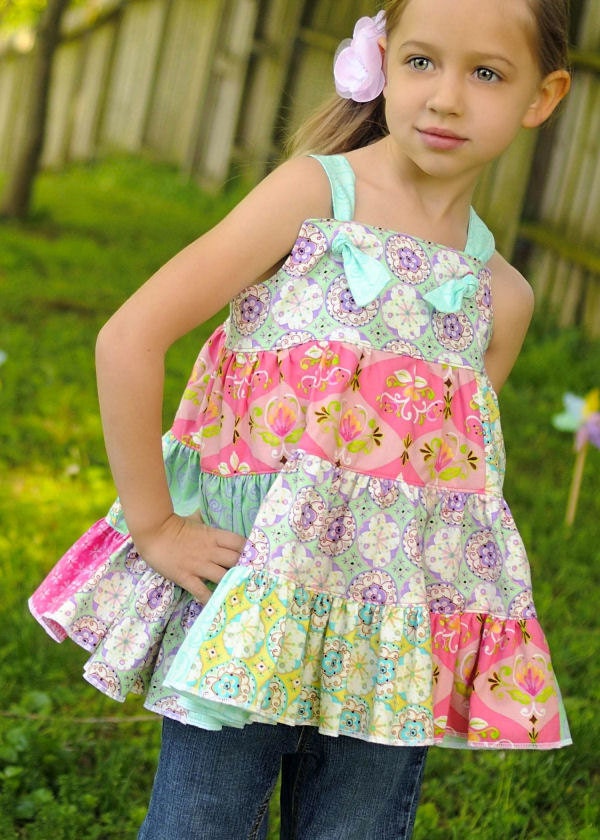 What fabrics "go" together?
Most of the time I pick one bigger print and then find a small print to coordinate with it. I like to add a coordinating dot, stripe or animal print.
Which colors look nice together?
I look at my main print, pick a good color and then match it.
How many prints or colors are too many?
I think too many bold prints aren't as pleasing to the eye. I've always heard it's better to design with odd numbers. Use 3 or 5 prints. I really try to have one color in all the fabrics.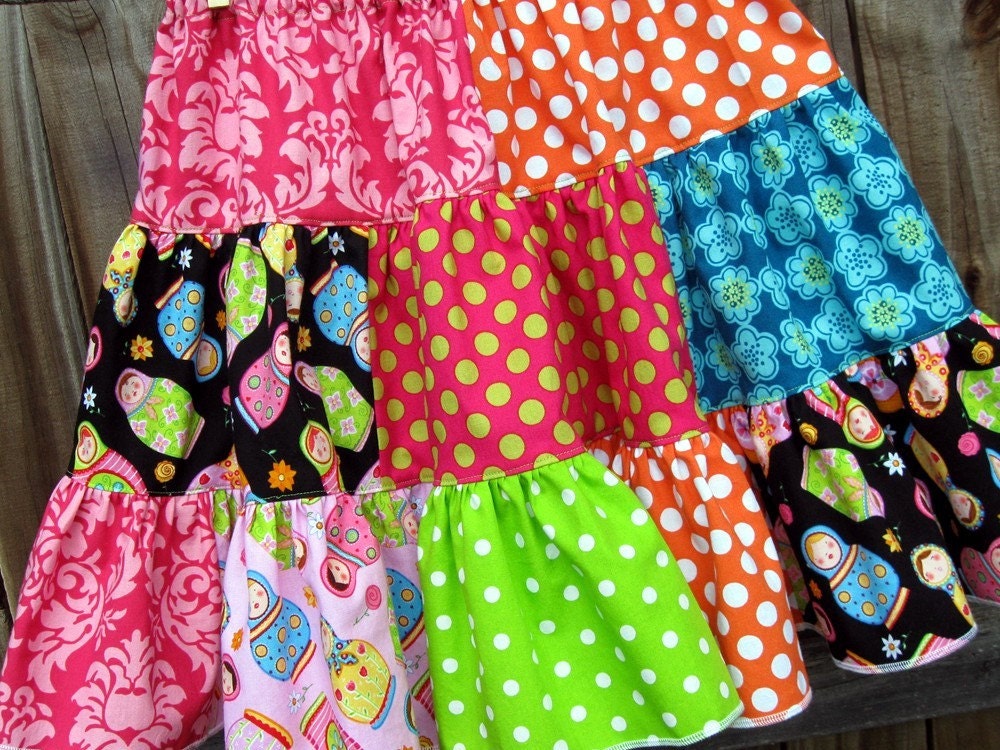 What size print should you choose?
The size should depend on the person you are creating it for. You wouldn't want a big print for a 1 yr old. Tiny prints on a tween might look more childish.
Do you stay safely with one designer's line of fabric or do you mix them up?
I usually stay with one designer. I do have lots of dots that work with most. I don't think I ever mix prints with different designers. Several designers seem to have colors that only work with one line of fabric.
I usually start with a pattern. I see how many fabrics the pattern will need. I go through my big stash and see what coordinating fabrics I have in the amount the pattern requires. I just imagine how each will look and one always seems to stand out. Sometimes I see a fabric line and I know immediately what pattern with work with it. I will buy the fabric according to the pattern requirements. A lot is about instinct and imagination.
Renae's shop is on vacation until mid-June but keep tabs on her at the Fluffy Girl Boutique Facebook page!
KPea Original
Kathy at KPea Original was a major inspiration for this blog series! I love to look at her designs and the fabric choices - always bright and fun, and never loud or busy. Here is what Kathy shared:
I am Kathy of KPea Original. I am a fairly new designer and here are my thoughts on design. You won't know if you are good at design until you try. I think that some people see the world in color and shape and some don't. For me I can see the finished dress in my mind before the fabric is ever cut. I layer and imagine and the dresses are born. I have a huge emotional tie to fabric. I love to spend time seeing it in my mind and creating.
How do you choose?
If this question is how I buy fabric then it's great one LOL! I buy everything I love and nothing I don't love.
When choosing fabric I always start with the main print. I shop for fabric in categories. I buy main prints and decide while buying how many dresses I want to make and then work from there. I buy co-ordinating fabrics generally without a project in mind. I just like to have lots and lots of options.
What fabrics "go" together?
Once i have the main fabric chosen I work out and down to choose the complimentary fabrics. I ignore pattern totally and design based on color alone. I think they only way to know if a color looks good together is to layer it and see if you like it. What I am looking for by layering is to see what color stands out. I want to draw the eye to each fabrics best qualities. So if a print has a 'bad yellow' I will make sure the complimentary fabric doesn't bring out that color.
How many prints or colors is too many?
To me there is no rule for this. I never repeat a fabric but I don't believe you can have too many prints in dress.
What size print should you choose?
I buy what I love! Scale is no issue for me. I love big big prints although cutting them can be tricky.
I almost never use designers color ways together. It can be so boring! Mix it up and try to put crazy fabrics together to get an unusual or remarkable result! I never want my clothes to look like anything I have seen. There is no 'safe' in design. I don't think safe have ever sold well for me!
Thank you so much to KPea Originals and photographer Hannah Hilliard for letting me share these inspirational photos with you!
I hope you've enjoyed these interviews as much as I have! Grab some patterns, dig through that stash, and go sew! Remember, always 25% off when you buy 3 or more patterns at www.tiedyedivapatterns.com, just enter code BUNDLE at checkout.