[11/29/12: apparently there is a 500 error downloading the stocking pattern from Google Docs. All I can say is let's hope it is temporary. I ask that you please don't email/message me about it, I've been swamped. If it doesn't self resolve soon I will look for another way to host the pattern for free.]

[12/6/12: it does seem to be fixed.]

This is a free tutorial for a fully lined fabric stocking with foldover cuff. You can also purchase a downloadable PDF containing two styles (elf and traditional) and two sizes of Christmas stocking and detailed, step-by-step instructions for only $4.95 at my website here: http://www.tiedyedivapatterns.com/product/christmas-stocking-pattern-elf-stocking-pattern-or-traditional-pdf-sewing-pattern. Thank you for supporting handmade!




For the free tutorial stocking you'll need:

Less than 1/2 yard of each main stocking fabric and lining fabric
1/2 yard light/mid weight fusible interfacing (optional but recommended)
16" x 12" cuff fabric
12" of 5/8" grosgrain ribbon or other hanging strap
printable pattern: Click Here to Download Tie Dye Diva Free Christmas Stocking Pattern

Click the link, then in the left hand corner, click File, Download, to save the printable pattern.



1. Preparing your pieces.

Click "download" above and print out and assemble the pattern. Do not overlap the pages, it's fine if there is a gap in the lines where the pages join, just imagine they are there. The top of the stocking should measure 8.5" across. Cut 2 stocking pieces from each of your main fabric, liner, and interfacing. Be sure one of each is reversed! The easiest way to do this is to fold the fabric before cutting; that way you'll cut 2 at once, and one will be reversed. Cut 1 piece for your cuff fabric that is 12" x 16". Follow the manufacturer's instructions for fusing your interfacing to your main stocking pieces. You do not need to interface the lining or cuff.

For purposes of this tutorial, my stocking is red and the lining is the green.






2. Sew your stocking and liner.

Pin your main stocking pieces right sides together. Sew around the edges (except for the top) using a 1/2" seam allowance. Trim the seam allowance down to 1/4", and clip the inner curve at the bend in the stocking and outer curves around the toe and heel. This will help it lie nice and flat.




Repeat this entire step for the liner. Turn your liner right side out. Place your main stocking (still inside out) inside the liner, and align your raw upper edges. Put this aside.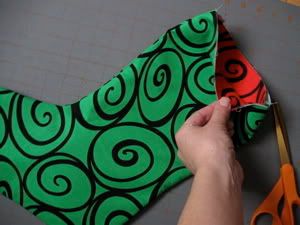 3. Prepare the cuff and hanging strap.

Place your cuff fabric right (printed) side up. Fold your ribbon or other strap in half, and pin in place along the 12" side, about 1" from the top edge, angled down as shown.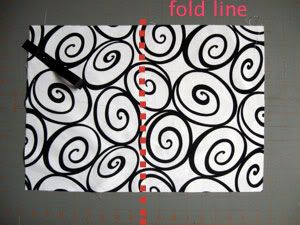 Then fold your fabric in half along an imaginary middle line so that the raw side edges are together. The wrong side of the fabric will be facing out, and your strap will be sandwiched inside this 8" x 12" piece.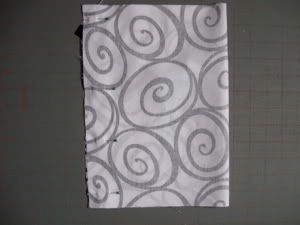 Sew along this edge, backstitching and sewing over the ribbon strap again for reinforcement. Trim your seam allowance to 1/4", including the little bit of ribbon that is sticking through. Remove your inner pin first or your best sewing scissors will suffer! Now you have a tube of a sort. Fold the tube in half lengthwise, wrong sides together (right sides facing out).It's helpful at this point to lay it down as I have done, with the raw edges on top, folded edge on the bottom, and your sewn seam on the left. If you had X-ray vision (ooh ... wouldn't that be cool?), you'd see the ribbon inside where the dotted lines are shown.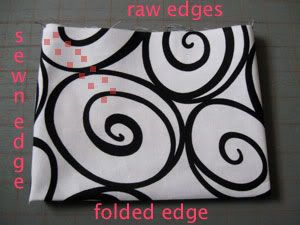 4. Put it all together.

Now put the cuff around the top of your set-aside stocking. You want all 4 raw top edges aligned (two from your folded cuff, one stocking, one liner). Align the side seams and the raw edges neatly, and pin.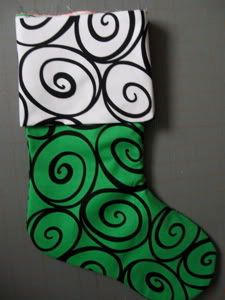 Sew or serge around the top of the stocking, using a 1/2" seam allowance. If you are not using a serger, finish the seam using a zigzag stitch or pinking shears.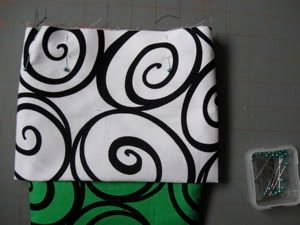 Turn your stocking right side out – yup, it's correct that the seam is on the outside.




Then fold the cuff down into place, covering this seam. Voila, your handy hanging strap will pop up in just the right place. Give the whole thing a good pressing, and you're done.





This tutorial assumes some basic knowledge of sewing techniques. For tutorials with more detail, perfect for first projects and seasoned sewers alike, please check out my instant-download PDF sewing pattern shop for more downloadable How To Sew tutorials with complete step by step instructions, color photos, and full size computer-drafted printable patterns, starting at only $4.95. Merry Christmas!