OK, so you have a pile of adorable Sunny Day Sun Hats but your little angel just won't keep them on? This tutorial shows you how to add chin straps to your straight-brimmed Tie Dye Diva Sunny Day Sun Hat.

Start this tutorial after you've turned your hat brim right-side-out and pressed it (bottom of Page 18 of the older version eBook or page 9 for the newer version, which does not have a page 18!)

Materials you'll need:
*16" x 1.5" fabric, or twill tape, grosgrain ribbon, or even ready-made bias tape.
*1 inch long piece of 1" wide hook and loop tape (like Velcro®)


Here's an overview of making the straps and then a step-by-step description.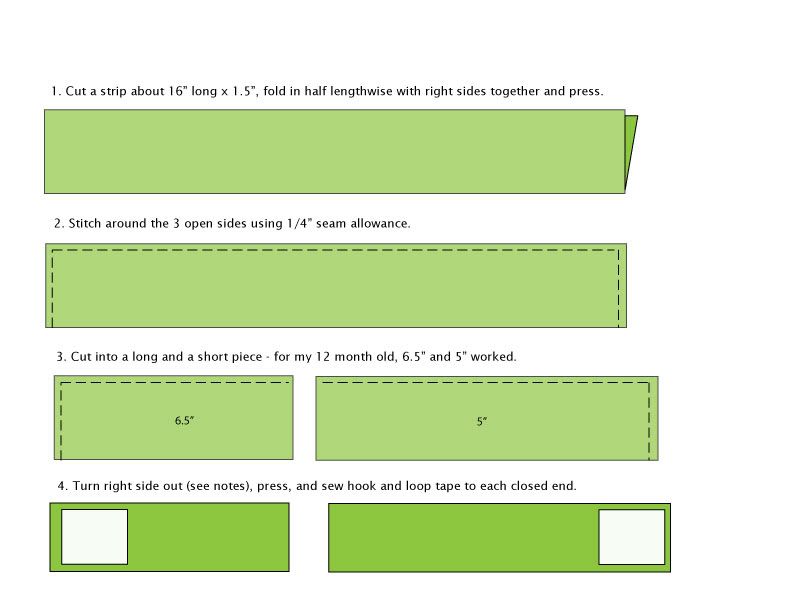 So, if you are making your straps from fabric, begin by pressing your strip in half lengthwise, with right sides together. Sew around the open edges using a 1/4" seam allowance.

Cut/trim as needed this single piece into two straps. I made the straps unequal lengths so that the closure wouldn't be directly under the chin. By trial and error, the best length for my 12-month old's straps were 6.5" and 5". If you are making straps for a larger or smaller child, you'll need to adjust the lengths accordingly*, but you will be able to make both straps for up to our largest hat size from the 16" piece.

[*Edited to add: After an informal poll, I came up with these suggested strap lengths for other sizes. If you have the child, you will be better off measuring the child as these are untested. Let me know if you have success or not with these lengths: 0-6 months, 5.5" and 4"; 6-12 months, 6" and 4.5"; 1 to 3 years (given in tutorial above) 6.5" and 5"; 4 to 5 years 7" and 5.5"; 6 to 8 years 7.5" and 6".}

Now, the tricky part is getting these small, closed-ended straps turned right-side out. A handy tool that I keep blabbering on about is a loop turner - a long thin metal rod with a hook on one end, cheap and easy to find. Turning even a closed-ended tube is easy with this tool. If you don't have one, you can pin a safety pin to the closed end and with some fiddling, push it down through the tube. If that is too fiddly for you, an alternative is to sew your folded fabric down only the long side, leaving the short sides open, then once you have turned this (fairly easily) using a safety pin, tuck the raw edges of one short side under, press, and stitch. You can leave one raw end of each strap unsewn because it will be hidden between the layers of your hat.

Press the straps well. Cut two 1/2" long pieces of 1" wide hook-and-loop tape and sew the rough, poky side to the short strap and the soft end to your longer strap. It's really handy to stick the hook-and-loop tape to your strap using Wash Away Wonder Tape, or even a swipe of a glue stick, so that you don't have pins in the way when you're trying to sew a tiny piece of Velcro to a tiny strap.


">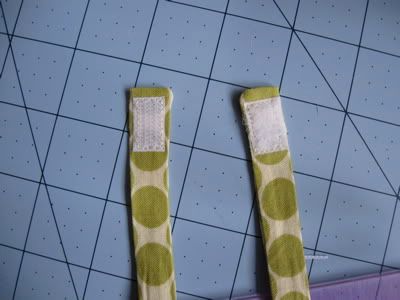 Now, pin the straps to your finished hat brim, lining up the raw edges. I oriented the hat brim so the seam was on the bottom, and pinned the straps pretty much in the middle, just slightly more toward the front. Notice that the strap on the left is the longer strap, and it is (soft) Velcro side UP. The strap on the right is the shorter strap, and it is scratchy Velcro side DOWN.




Check that the two sides are even by folding the hat brim in half, using the seam as your guide.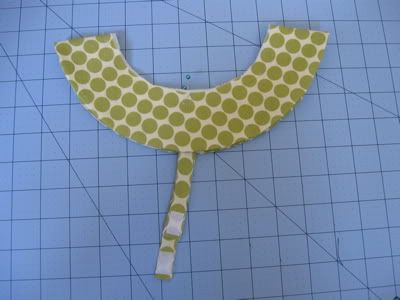 Pin the brim to your main hat crown as usual. The straps will be on the outside of the brim, just like this: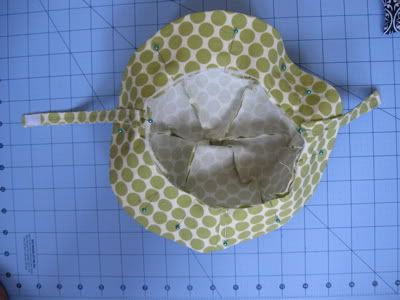 Baste all around per the instructions. You want these straps out of the way for the next step, so I found it easiest to Velcro them together on top of the hat, just like this: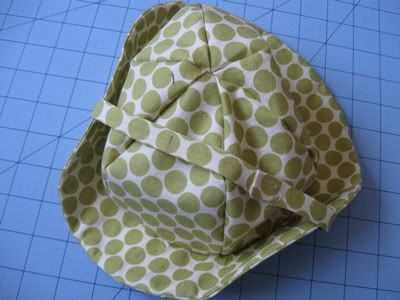 Now when you place the liner over your hat and brim, you'll simply place it right over the straps too.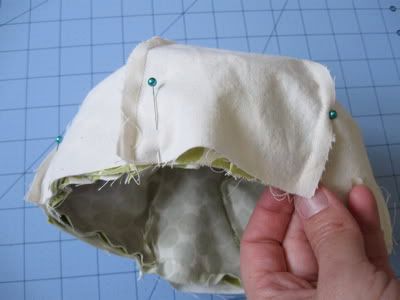 Continue with the eBook instructions until you've got something incredibly adorable, like this:




This method works for reversible hats also - the straps simply lie over the brim on one side and under on the other. I didn't make this hat to be reversible, but if I did, it would be worn just like this:




Have fun!




How to Make A Sunny Day Sun Hat is available at www.tiedyedivapatterns.com.



tute hat made with Amy Butler Full Moon Dot in Lime lined with Michael Miller organic cotton sheeting. My older soon took one look and said "Cool - peas!"